SAṂSĀRA COLLECTION
Elevate your style with these evergreen designs, meticulously handcrafted from our signature rain-fed, handloom and botanical dyed cotton. Discover forever pieces for a wardrobe whose soulful heritage is woven into each thread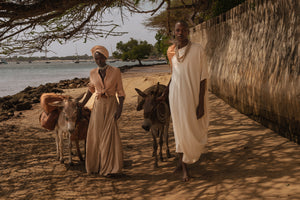 Collection note
'Saṃsāra' (v., Sanskrit) in Indian philosophy, is crucial in the
journey of metempsychosis, or reincarnation. The cyclical nature of Saṃsāra
recognizes that death & birth are necessary as we strive to release from
the bonds of our own past deeds: our karma. Saṃsāra enables the death of the
past, the freeing of bondage & the inevitable rebirth into the future.
"This feels like a rebirth of
LilaBare to me, as we present a collection that represents the meeting point
between my aesthetic & my ideal fabrication of the pieces, particularly in
relation to te label's sustainability & ethics principles."
– Ria Ana Sejpal, Creative Director
The collection heavily features
LilaBare's signature textile, which is of local origin, traceable, naturally
grown, botanically dyed and handloomed in Kenya. The collection pays homage to
the first time these techniques were developed, dating back to the Indus Valley
Civilization in the Bronze Age, which also is the inspirational foundation upon
which the collection is designed.
During this time period, the sari had
not yet been created. The number of cloths that one wore denoted the style;
"ekavastra" or one piece, "dvivastra" two piece, and so on. In consideration of
this, the primitive approach to the collection strips down all frivolity and
emphasizes on nomadic, old-world utilitarianism. The silhouettes are cut to
move in harmony with the natural elements that come into contact with each
piece, as an extension of the body.
Adornment feels necessary with this
approach, and much like Hindu deities, the practice of adornment or "shringaar"
is to make the body, the temple of the soul, auspicious. We use adornment to
protect, to express, to connect with our inner spirit, "aatma", as one of the
highest forms of celebration of life. The choice of heavy, raw materials is to
provide protection to the more fragile parts of the body; forearms, ankles, the
third-eye, and highlight its strengths too. They take shape in rewoven,
landfill-destined denim; post-production excess pull-up leather; shells and
upcycled hand-cast brass plated in gold.
Saṃsāra is the reinvention & revival of ancient textile traditions as well as
our local handcraft. It is an  adaption
of an era whose stories have been lost in time, yet is still reawakened into
the present.